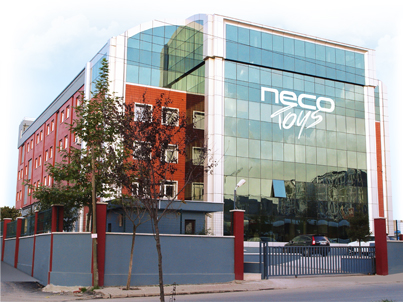 Necotoys, the first foundations of which were laid in 1992, is a company that has achieved many firsts in the Turkish toy market in 30 years. Necotoys, which entered the sector in 1992 with the import and production of party costume products, has become the leading company in the branded toy market since 1994.
It has been the exculive distributor of many world brands that shape the world toy market for many years, and is the first company to offer licensed products to the Turkish market with dozens of license agreements.
Since 2007, it has been serving in its 11.000 m2 central building in Istanbul. logistics, production, showroom and office departments are located in the central building.
Necotoys, which has received dozens of outstanding achievement awards from license companies, manufacturers and important institutions, also has quality certificates such as ISO 9001, ISO 45001, ISO 10002, ISO 14001 and Sedex.
With more than 100 employees, Necotoys distributes products to toy stores, stationery and gift stores, hobby stores, museum stores, department stores, supermarket and airport Freeshop stores in the entire Turkish market.
It also has 3 more brands under Necotoys as the main brand.
"Necoplush" and "Animals of the World" are production marks.
"Loco Poco" is an online sales and retail brand.